Ecological topics that includes field/lab component
Contents
Insect biodiversity and species interactions and timing: pollinators, herbivores and their natural enemies
Topic: Insects (and other arthropods) play important roles in ecosystems. There is an incredible diversity of insect species. My research focuses on the importance of biodiversity for plant-insect interactions, which build dynamic and complex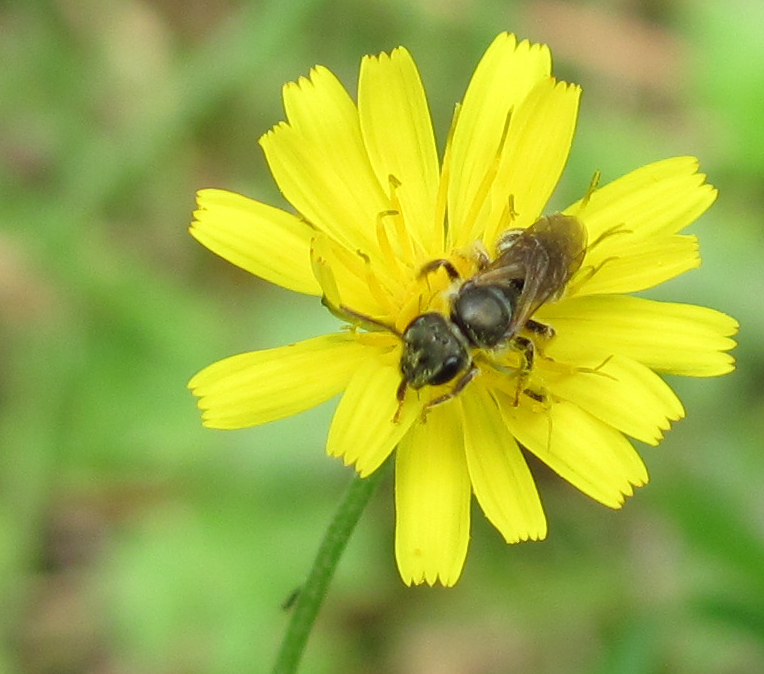 networks. If this general topic sounds exciting to you, you are welcome to develop a thesis topic together with me, taking your specific interests into account.
One of my current projects, which is particularly suitable for contributions by thesis projects, uses the IDENT tree diversity experiment, with one site in Freiburg (convenience!) And other sites in Canada (adventure!).
I am also super excited about wild bees, their flower preferences and how it interacts with flower opening and closure.
Some specific ideas:
Herbivore (aphids, bugs, hoppers, weevils, bark beetles) assessment in IDENT: either new fieldwork or working with existing samples (eg species identification)

Do generalist herbivores prefer native or exotic trees? Feeding choice experiments

Response of spider communities to tree diversity: species identification

Aphid population dynamics and predators: field experiments

Pollen analysis to reveal bee species resource choice in relation to competition or time: lab work with existing samples
Suitable as: MSc or BSc projects.
Requirements: Enthusiasm about (fundamental) ecology and willingness to engage with a complex topic. Ability to develop a sound and well-organized analysis in R. Some knowledge of entomology (but also see my "computer-only topics", where this is not required).
Time: Topics working with existing samples or data can start any time. Studies that include own field work have to start in spring or summer.
Contact: Dr. Jochen Fründ , jochen.fruend@biom.uni-freiburg.de , 0761 / 203-3747 (Biometry and Environmental System Analysis, Faculty Env. And Nat. Res.)
Soya growing area of the future - model-based prediction of the suitability for cultivation of soybeans in Climate Change
The cultivation of soybeans in Germany reached an all-time high of around 33,000 ha in 2020 Acreage. According to data from the Deutsches Sojaförderring e.V.1, this corresponds to only about 2% of the annual demand in soybean in Germany. On a national as well as European level, climatic changes are expected to increase cover by around 50% through domestic production in the medium term (Roßberg and Recknagel 2017; Guilpart et al. 2020).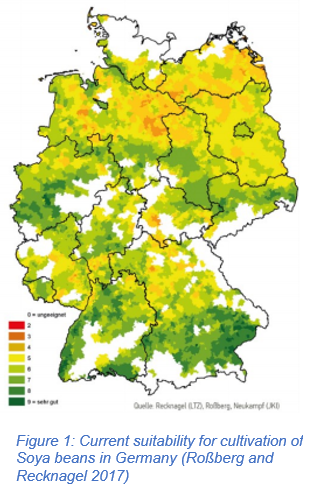 An increase in the soya cultivation area has in addition to numerous positive ecological aspects (e.g. Nemecek et al. 2008) direct political relevance (see e.g. the European soya Explanation2). For long-term use of the cultivation potential is it is necessary to identify future favoured areas in advance and to establish appropriate agricultural structures. In the course of climate change, the opposite effects can appear. While an elevated temperature in the growing season lead to a significant increase in cultivability (Guilpart et al. 2020), at the same time there is an increased risk of summer drought (Spinoni et al. 2017; Spinoni et al. 2018). In particular drought stress from the time of flowering significantly reduces the yield (Meckel et al. 1984; Frederick et al. 2001). This effect can be seen already at the regional level in the contract farming data from Taifun-Tofu GmbH. Despite this conflict, current models lack critical parameters such as precipitation or water retention capacity of soils (Guilpart et al. 2020).
The advertised thesis is intended to close this gap:
- Evaluation of the map of the current suitability for cultivation of soybean in Germany (figure above) under the requirements of the ability to predict climate change
- Modelling the shift in cultivation suitability under different climate projections on the basis the map of suitability for cultivation of soyabeans
- Analysis of the effects of increased summer drought on regional cultivation worthiness
The Deutsche version and full literature list for this advert can be found here.
Suitable as: BSc or MSc thesis project
Contact: Stefan Paul < s.paul@taifun-tofu.de>
Reference:
1https://www.sojafoerderring.de/
2https://www.donausoja.org/fileadmin/user_upload/Activity/Media/European_Soya_signed_declaration.pdf
Literature:
Frederick, James R.; Camp, Carl R.; Bauer, Philip J. (2001): Drought‐Stress Effects on Branch and Mainstem Seed Yield and Yield Components of Determinate Soybean. In: Crop Sci. 41 (3), S. 759–763. DOI: 10.2135/cropsci2001.413759x.
Guilpart, Nicolas; Toshichika, Iizumi; David, Makowski (2020): Data-driven yield projections suggest large opportunities to improve Europe's soybean self-sufficiency under climate change. In: bioRxiv, 2020.10.08.331496. DOI: 10.1101/2020.10.08.331496.